Irvana Keagy Wilks
Irvana Keagy Wilks is a professional writer who began reporting sports as a high school student, wrote for newspapers, church and other publications.  Her writing has turned from adhering to facts of a journalist to the rich tapestry she can weave truths into fiction and poetry.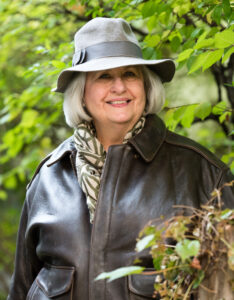 Mount Prospect is governed by non-partisan elections.  Irvana K. Wilks was first elected in 1991 as a Trustee to the Mount Prospect Village Board and was re-elected every four years. When Mayor Gerald "Skip" Farley retired as Mayor in 2005, she ran and was elected Mayor. She was reelected in 2009 to a 2nd term and served until she retired in 2013.
As Mayor of Mount Prospect, Irvana Keagy Wilks wrote or presented:  Arbor Day poems (she is the only U.S.  Mayor to write Arbor Day Poems); Poem for 9/11 Ceremony;  she wrote a poem, "Hallowed Ground" for placing a Wreath at the American Cemetery in Normandy, France.  One poem, Little Leaf Linden, was published in a magazine about Arbor Day and Mount Prospect's Mayor who wrote tree poems.
Writers conferences attended:  Glen Workshop West, "Image Journal" (Seattle Pacific University) for poetry and fiction; Iowa Writers Summer Workshop, Iowa City, for non-fiction and fiction.
Poems in literary publications: "Summer Tea", published in Short Stuff Magazine; "Easter Grass" in Poetry Church Collection (Feather Books, England); "Hot Flash" in Rockford Review.
For years she wrote a monthly column for the "Visitor", the newsletter of the Arlington Heights Christian Church.  She was commissioned by the League of Women of Illinois to write about "Rights and Responsibilities: A Community Handbook for Low-Level Radioactive Waste," and to write about taxes and Cook County government issues.
To do justice to her role as Mayor, Irvana Keagy Wilks placed a novel, short stories and poetry writing on hold.  She used her gifts to honor Arbor Day tree plantings held in April at Mount Prospect schools. She also wrote a poem to commemorate, a 9/11 Ceremony for Mount Prospect and placed a wreath at the American Cemetery in Normandy, France.
Irvana Keagy Wilks graduated from University of Kansas, with a Bachelor Degree in Journalism.  She loves watching KU basketball (where basketball was invented) and football.  After graduation, she married Alan D. Wilks and followed him to the University of Iowa where he received his PhD in chemistry.
 Her first writing was as a sports reporter at Valley Center High School. Stories were printed in the weekly newspaper. During college, she wrote for the Wichita Eagle, Topeka Daily Capital and KU's Daily Kansan. When moving to Iowa, she was the woman's editor at the Iowa City Press-Citizen.
Their family moved to Mount Prospect in 1969 with daughter Jolin when Alan was hired by Universal Oil Products (UOP) of Des Plaines.  Alan now uses his chemistry degree working for projects he contracts for.  He holds about 37 Invention Patents.
They support: Christian Church of Arlington Heights: Friends of the Mount Prospect Public Library:  Historical Society:  Lions Club:  Sister Cities Commission of Mount Prospect: Women's Club: YMCA.