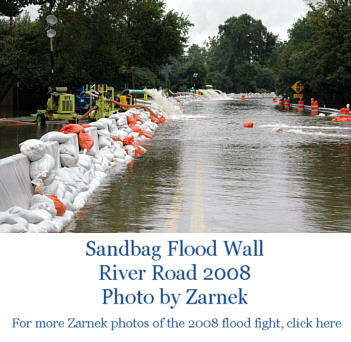 For decades the Des Plaines River floods Mount Prospect and Prospect Heights.
During floods, sandbag walls were build down the center of River Road to erect pumps that pump out sewer water from basements and streets flooded by the river.
The Army Corps of Engineers and elected officials devised a plan for a levee made of earth and concrete to be built, which would hold permanent flood-fighting pumps.  It is Levee 37, taking a numbering system devised by the Army Corp.
As Mayor, I worked with engineers from Mount Prospect and Prospect Heights, colonels from the Army Corp of Engineers, representatives from the Metropolitan Water Reclamation District, and the Cook County Forest Preserve to get all parties to sign a memorandum of agreement to begin construction of Levee 37.
Ground was broken for Levee 37 in 2009, and was completed in 2013 after an agreement with Wheeling to allow upriver storm water to be compensated for at Heritage Park.
Thanks also go to former Mayor Gerald 'Skip' Farley, and Mount Prospect village manager and engineers who worked with mayors of Prospect Heights, Cook County Commissioners and other local and state officials to see the work begun and finished.