Randhurst Village – Mount Prospect, IL
Today's shoppers want a lifestyle destination built for quick trips to shops,  restaurants, a movie theater and a hotel.
Parking is free and next to shops.  There also is a monitored, long-term parking garage.
As Mayor, I was proud to help negotiate and sign agreements between Casto Lifestyle Properties and the Village of Mount Prospect.  I broke ground for a new AMC theater.  I cut ribbons for new stores, restaurants and a hotel.  I cut a ribbon to reopen Carson Pirie Scott after it finished a multi-million-dollar make over without closing during the renovation.
Randhurst Village, with its unique prairie-style architecture, gave a new, outdoor shopping experience to an aging Randhurst Mall built in the 1960s.
Using a public-private partnership, the Village of Mount Prospect and Casto Lifestyle Properties joined forces to redo Randhurst Mall.  As a suburban-landlocked property, it presented physical challenges for the developer.
At a time when the economic downturn left other towns with half-finished redevelopment eyesores, Casto Lifestyle Properties worked through the financial issues to finish Randhurst Village for today's shoppers.
---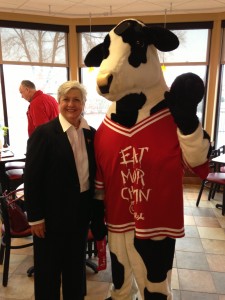 Ribbon cutting at Chick-Fil-A
Randhurst Village serves as a magnet for other restaurants and stores.  I cut the ribbon to open Chick-Fil-A across from Randhurst on North Elmhurst Road.  It is one such satellite restaurant.
Ribbon cutting was on a snowy day.  I met Chick-Fil-A's mascot cow who came inside to warm up and greet diners.
In the background of the photo is Trustee Steven Polit who helped with the ribbon cutting.
---
Panera Café Bread-Breaking Opening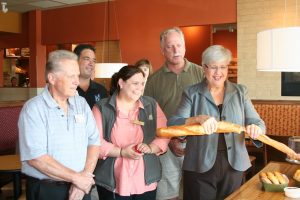 It was a spiritual experience breaking the bread to open the new Panera Café at Randhurst Village. Most openings cut ribbons, but Panera asked for a loaf of bread to be broken.